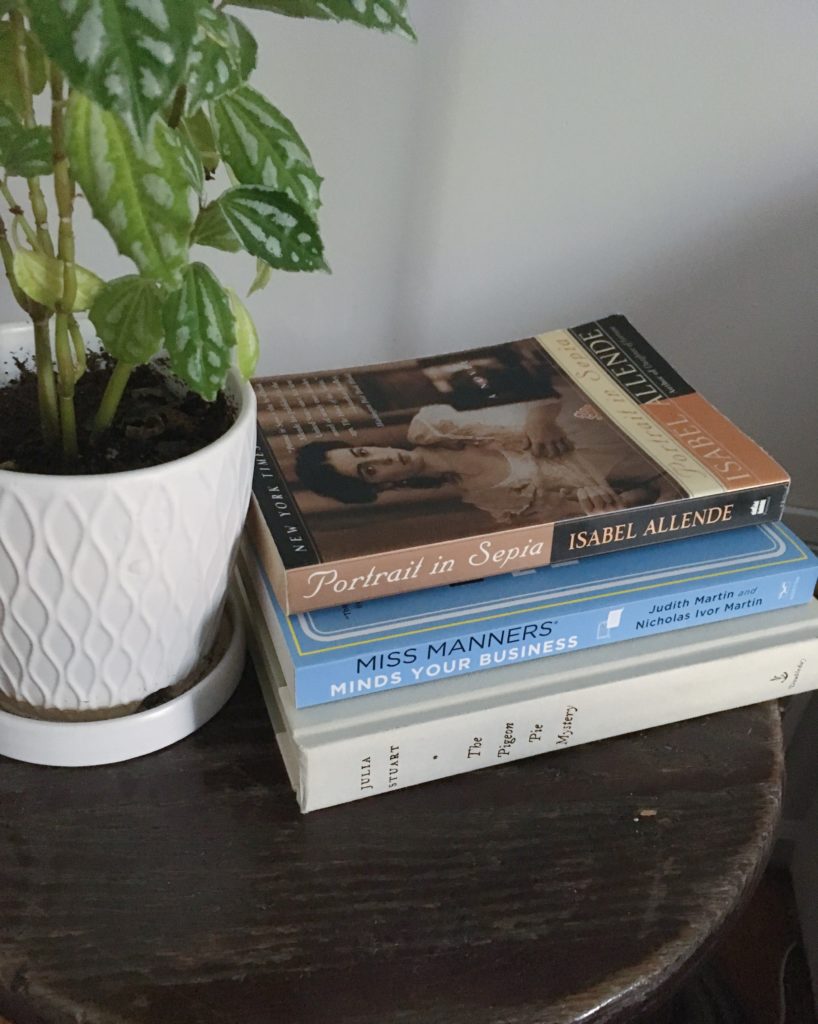 I usually have at least three books that I'm reading at any given time.
I've been told (many times) that this is a bizarre habit. But I think it's very logical: I always have something that I'm in the mood to read, no matter what that mood is.
Recently finished:
The Pigeon Pie Mystery by Julia Stuart. A re-read, and a favorite. An utterly charming, very funny mystery. Though the overall tone is very light and cute, the conclusion to the murder is surprisingly hard-hitting. Plus, the picture of impoverished aristocrats living in Victorian England is highly enjoyable.
And Then There Were None by Agatha Christie. I love Agatha Christie. (Really, is there a mystery writer who doesn't?) And yet, somehow, this particular classic had escaped my reading list until recently. I'll admit to not loving it — not the way I love many of her other books. The writing is phenomenal, of course, and it was a genre-defining novel. But it's really more of a thriller than a mystery. There's none of the fun of trying to guess the killer before the sleuth, since it's written to be unguessable. I read it in less than 24 hours, because it is that compelling and fast-paced. But I'm not sure I'd come back to it regularly.
The Body in the Library by Agatha Christie. Unlike this one, which I have read about three times. Miss Manners is my favorite Agatha Christie sleuth, and this particular mystery has an ingenious solution.
Portrait in Sepia by Isabella Allende. I've read and loved The House of the Spirits, but I think I enjoyed Portrait in Sepia even more. Beautifully, almost magically written, it's simultaneously a prosaic portrait of the generations in one family and a dreamy exploration of how memory shapes the course of a life.
Upcoming reads:
Miss Manners Minds Your Business by Judith, Jacobina, and Nicholas Martin. I love Miss Manners. I have the Miss Manners column bookmarked on my phone, and I had read Miss Manners' Guide to Excruciatingly Correct Behavior cover to cover more than once. Makes me laugh every time. I saw this in a stationery store when I went to buy a new journal and impulse bought it with no regrets.
Homegoing by Yaa Gyasi. It's on everyone's list these days, which means I am waiting my turn in the library holds queue. From everything I've heard, it might end up being the most compelling thing I read this summer.
What's on your bookshelf these days?